Description
Standard sprinklers "Aqua-Gefest" are implemented in automatic extinguishing units for water sprinkling and spreading it along the protected area to extinguish fire hotbeds and their localization and also for creating water screens.
Technical features
Pendant nozzle

K-factor - 0.3 (57)
Protected area - not less than 12 sq.m.
Connecting thread - 1/2 inches
Finish - without cover (bronze), with cover (nickel, white)
Weight - 0,076 kg
Overall dimensions - 60х30 mm.



Diagram of irrigation intensity dependence on pressure at application of water and water solutions with capacity factor K=0.3 on 12 m2 protected area (one sprinkler)

Installation height 2,5m for upright water-mist sprinklers
Diagram of irrigation intensity dependence on pressure at application of water and water solutions with capacity factor K=0.3 on 12 m2 (two or more)

Installation height 2,5m for upright water-mist sprinklers

Sprinkler maps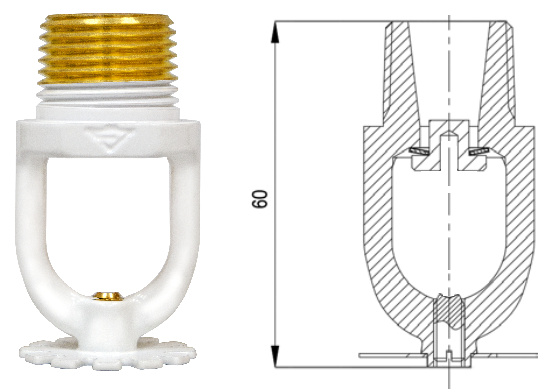 Characteristics
| | |
| --- | --- |
| Performance factor | 0,3 |
| Drencher or Sprinkler | Drencher |
| K-factor | 4,0 (57) |
| Installation orientation | Pendent |
| languages | English |
---