General and technical data
Installation boxes fireproof KM-O IP55 are designed to connect and branch fireproof cable lines. They are used for outdoor and indoor installation under a shelter.

The body is made of stainless steel sheet AISI 304 1.2 mm thick. Fireproof junction box body has a rectangular or square shape. The lid is hermetically sealed to the housing by the connection with screws and sealing silicone gasket. On the cover and on the housing there are grounding clamps "PE". The side walls are equipped with membrane-type sealing bushings, providing the degree of protection against penetration not lower than IP55.
Junction boxes KM-O IP55 are made of stainless steel grade AISI 304, which has chemical and corrosion resistance, high strength, and has excellent low-temperature properties. All external fixing elements are made of stainless steel. There are special seal sleeves installed in side walls providing not less than IP55 degree of protection.
Inside the body of the box there is a steel galvanized Ω-type DIN rail of 35 mm width and 7,5 mm height needed for fitting of terminal blocks. Also, terminal blocks for high angle istallation can be used, for example terminal blocks Wago. Terminal blocks are not included into a supply package.

The boxes are certified for compliance with the requirements of technical regulations: TR TS 004/2011 "On Safety of Low Voltage Equipment".
Main technical specifications

Degree of protection: IP55.

Climatic modification as per GOST 15150: EC 2, EC 5, MU 2, MU 5
Temperature range: from -40ºС to +100ºС.
Connected cable diameter: 4-18 mm.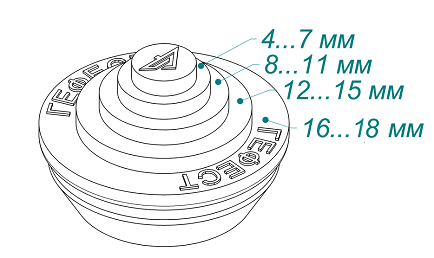 Modifications
| | | | |
| --- | --- | --- | --- |
| | Desifnation | Sizes*, mm | Number of inputs, up to |
| | KM-IP55-0808 from stainless steel | 86x86x66 | 4 |
| | KM-IP55-1010 from stainless steel | 103x103x66 | 4 |
| | KM-IP55-0812 from stainless steel | 86x103x66 | 6 |
| | KM-IP55-1212 from stainless steel | 123х123х66 | 8 |
| | KM-IP55-1224 from stainless steel | 123х240х66 | 12 |
| | KM-IP55-1515 from stainless steel | 150х150х66 | 8 |
| | KM-IP55-1530 from stainless steel | 150х300х66 | 14 |
| | KM-IP55-2020 from stainless steel | 200х200х66 | 12 |
| | KM-IP55-2040 from stainless steel | 200х400х66 | 20 |
* Without regard to hangers and inputs
Designation of junction boxes during the order
KM-IP55-х stainless steel where:

KM – denomination;
IP55- degree of protection;
х - designation of size of a junction box: «1212»; «1224»; «1515»; «1530»; «2020»; «2040» (see the table "Modifications" KM-O IP 55)
ss– stainless steel box