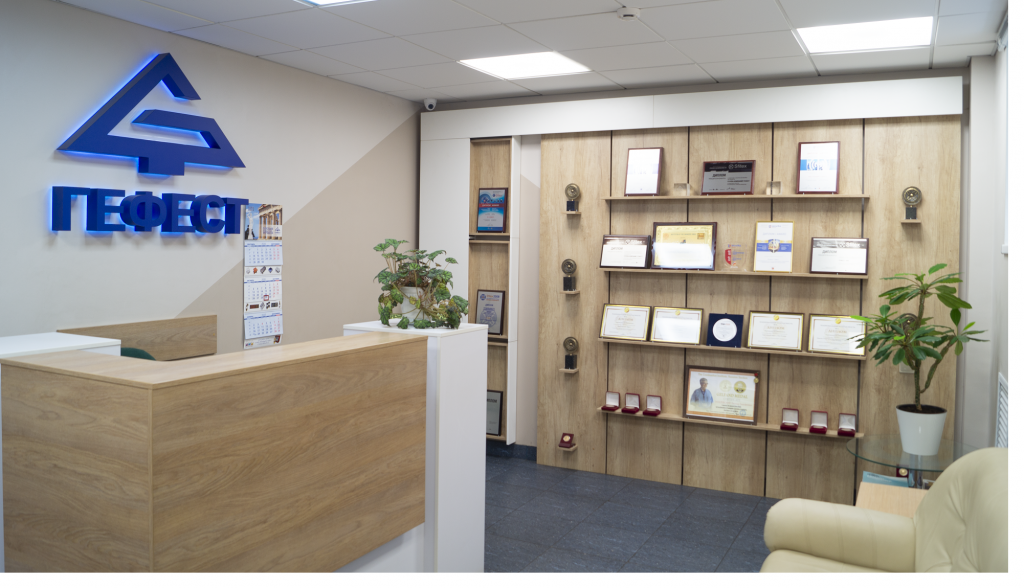 "Gefest" Enterprise was established in 1999 as a specialized organization in the field of fire-safety.
For more than 20 years it has been developed to "Gefest" Enterprise group with staff more than 300 people, which offers clients a wide range of design services, installation, technical maintenance of fire systems. It also manufactures high-quality fire-technical devices. Nowadays, "Gefest" production has a leading position in this sphere on the Russian market.
In present time "Gefest" Enterprise group consists of:

- "Holding Gefest" ltd. and "Gefest" ltd. – these companies specializes in normative-technical and design works, installation and technical maintenance of fire protection devices.
- "FNPP "Gefest" LLC– production company manufacturing fire tactical devices: "Aqua-Gefest" sprinklers including sprinklers with electrical activation and monitoring of activation, fire panels PKTS "Olimp" and PPU "Gefest", emergency lighting "Irida-Gefest", fire-retardants "Gefest", fireproof cable line "Gefest", wide nomenclature of fireproof junction boxes and other production.
- "GorPozhBEZOPASNOST" – designer and manufacturer of equipment for water-mist systems of "Aquamaster" brand – Moscow office of "Gefest" Enterprise group.
- "E-Sprinkler" Oy (Finland) – company, representing interests of "Gefest" Enterprise group on the European market.
- Specialized department of "Gefest" Enterprise group "Fire safety" in Peter the Great St. Petersburg Polytechnic University, which prepares specialists within the scope of doctorate and master's programme.
"Gefest" Enterprise group implements a complex approach to solution of fire-safety tasks: from manufacture of production to completion of the project on a turnkey basis.
The company has licenses on whole spectrum of works in the field fire-safety.
Professional skills and qualification of company staff makes it possible to conduct design works in correspondence with requirements of international normative documents: NFPA (National Fire Protection Association), FM (Factory Mutual Global), VdS (Verband der Sachversicherer), implement hydraulic calculations of foam and water extinguishing systems in accordance with SPRINKCAD methods.
"Gefest" Enterprise group actively participates in technical committees TC21 ISO and 274 GOST R.
Manufacturing of "Gefest" Enterprise group is equipped with high-quality equipment, which allows producing devices corresponded to world standards. High-grade production is confirmed by ISO 9001:2015 certificates issued by "Bureau Veritas Certification Rus".
Wide range of assortment of manufactured devices gives an opportunity to create fire-safety systems fully consist of devices manufactured by "Gefest" Enterprise group and integrate them to existing systems of other manufacturers.
Production of "Gefest" Enterprise group in compartments of different functional implementation: in public places, objects of cultural heritage, factories and warehouses etc.
Among objects of "Gefest" Enterprise group are: the Bolshoi Theater, the State Hermitage, National Library of Russia, Federal State Unitary Enterprise "GOSZNAK", IKEA and FORTGROUP shopping centers, "GAZPROM" JSC, "Lukoil", "Rosneft", "NOVATEK", pulp and paper plants "International Paper" and "Ilim-group", Pulkovo observatory RAS, Russian Geographic Society, International airport "Domodedovo", "Gazprom Arena" stadium, memorial-estate "Kizhi" and 1000 more objects. "Holding Gefest" is included in the list of companies recommended for conducting works on "FM Global" supervised objects.
"Gefest" Enterprise group is a numerous-times winner of security contests and is awarded with diplomas and medals of Russian and foreign exhibitions.
Activity of company is noted with grateful letters and diplomas including acknowledgement of the President of the Russian Federation.