Description
BKU-I is a fire alarm control panel, including the function of the slave. It is a mandatory "head" component of the system.
The BKU-I performs monitoring and control:
in the "Master" mode - by the slave BKU-I;
in the "Slave" mode and in the "One in the system" mode - by the controllers of the local KL-I.
Assignment:

monitoring of the EAS in automatic mode according to a predetermined algorithm;
activation of any EAS in manual mode;
monitoring of the fire extinguishing warning and evacuation system of 1-2 types;
monitoring of engineering, technological equipment and other devices;
display and logging of address information about events in the system;
connection of the Olimp-I automated workstation.
Technical specification

Parameter

Value
Power supply voltage:
nominal
allowed


~230 V
from 195 to 253 V
Maximum number of connectable local controllers (KLs)

8
Maximum number of connectable addressable devices

2000
RS-485 line length
1 km*
Number of extinguishing zones (directions)
1000
Number of baffle zones
99
Output to monitoring station

4
Enclosure degree of protection

IP55
Overall dimensions, not more than
400х400х200 mm
Weight, not more than
25 kg
* - Increase of the line length is possible under the condition of using IKZ-485


Connection diagram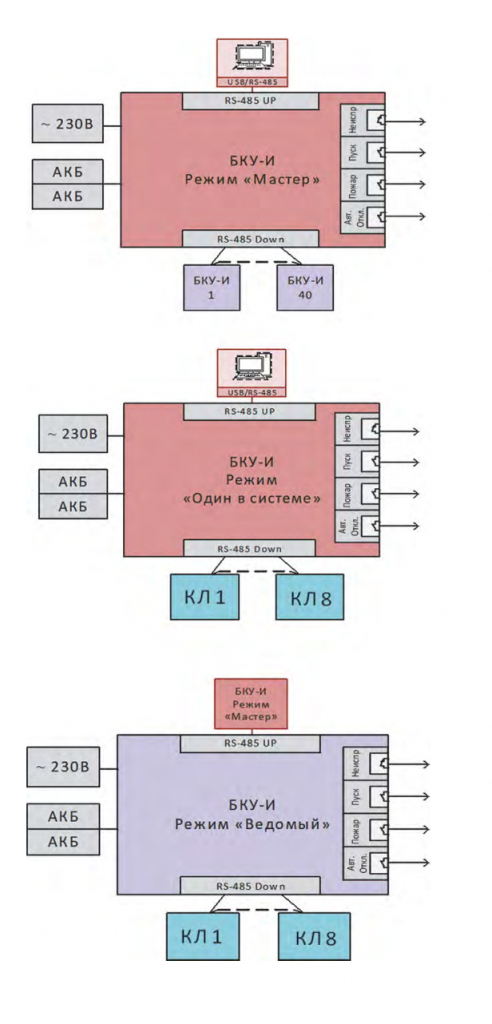 Characteristics
| | |
| --- | --- |
| Dimensions | 400х400х200 мм |
| Dimensions, mm | 400х400х200 |
| Power supply: voltage | =24 ± 4 В |
| Power supply: current, no more | 180 мА |
---