Description
New software of the automized work place of "Olimp" systemoperator has been released.
ARM "Olimp" software is aimed for organization of automized work place of PCTD "Olimp" operator. Software is used together with BKU-3200. Software is installed on the operator's computer and allows controlling the fire-safety condition with the help of graphic plans and event log. With the help of this software one can get acquainted with the work of complex "Olimp" and also create the configuration of a location without buying any license.
Every sprinkler (sprayer) gets its own address
Sprinkler (sprayer) mode is always under monitoring
Within regular reaction of any sprinkler (sprayer) or satellite flame detector its address is defined and sprinklers (sprayers) are activated according to the given program by force.
Activation of electrical circuit to every sprinkler (sprayer) as well as all electrical circuits are controlled in a case of shortstop or fault
Troubled incidents can be registered in electric-dependent memory
ARM "Olimp" software is an automized work place of PCTD "Olimp" operator and is aimed for:
Supervising the current condition of system objects and getting information about processes in real time
- Processing of troubled events
- Maintaining of arming and disarming addresses and also controlling the start of sprinklers according to chosen addresses
- Setting devices on diagrams of secured locations
- Forming reports about events of the system for indicated period of time
- Forming a list of program users and allowing them to use different options of the program

There are three groups of people who can use "ARM "OLIMP"":
Software administrator. The administrator has full access to the whole software of the program, including forming the list of users and setting their rights and also posting data about the hardware of the system in software.
- Operator. The software operator maintains the control of sprinklers and processing of troubled processes, and also can view the hardware configuration and form reports about events in the system.
- User. The user can only form reports about processes in the system.
For operation of ARM "OLIMP" licensed USB key is needed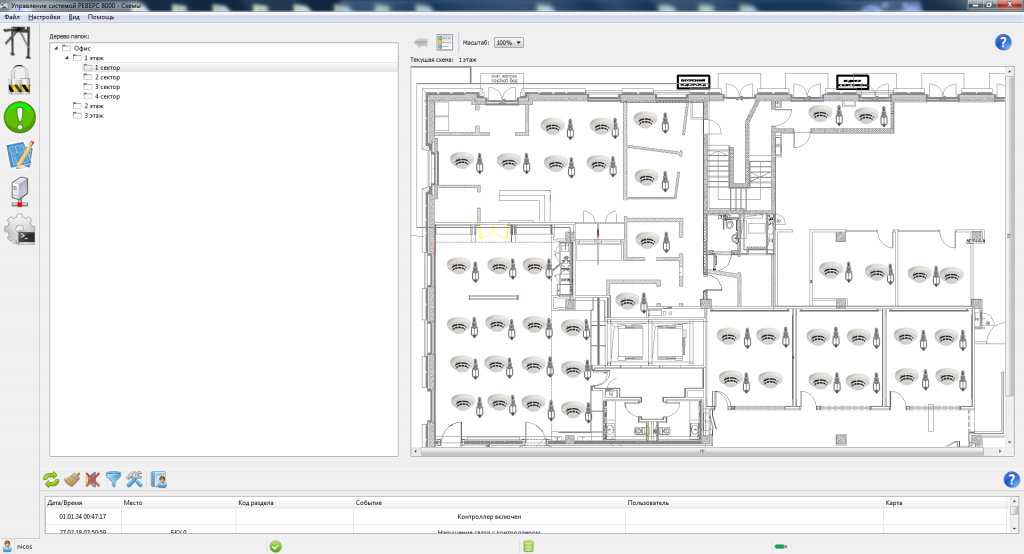 ---