Description
KL-240SA is used for monitoring of peripheral devices of the fire extinguishing system with electrical activation. It works with a relay module (MR) needed for feeding of addressable devices.
Purpose
• Monitoring of connection line condition with addressable devices
• Monitoring of addressable devices condition
•Information exchange via HTTP MODBUS (Interface RS-485) with BKU-3200
• Receiving of commands from BKU-3200 and its transfer by addressable actuation devices
• Generating and transfer of command of power supply polarity switch of addressable devices to MR
• Receiving and transfer of a notification about failure of an external source of uninterrupted power supply to BKU-3200
Technical specification
Double-wire stub of addressable power line – information exchange with addressable satellite fire detectors
Power supply - =24 V
Addressable space – 245 addresses, where the 1st is not used
2-230 addresses – connection of satellite addressable fire detector
231-240 addresses – connection of satellite addressable signaling module MS SA
241-245 addresses –connection of MS-SA (technical specification, receiving of signal «Fire» from (automatic fire alarm).
Connection diagram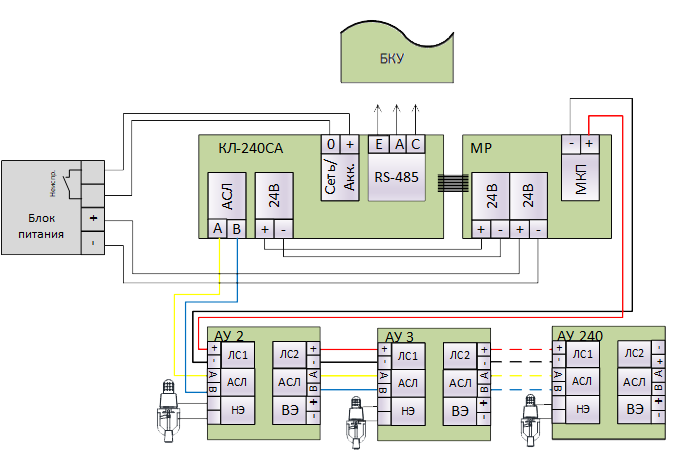 Characteristics
| | |
| --- | --- |
| Dimensions | 160х115х40 мм |
| Power supply: voltage | 24 ± 4 В |
| Power supply: current, no more | 70 мА |
---